Long time no blog, what a week. My computer got surged, and with DH out of work it took longer than anticipated to get this computer up and running. Jesus was with me that day I tell you!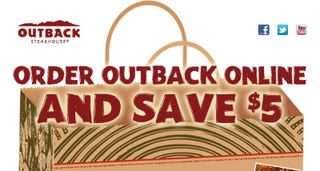 So today in my inbox was a great deal for Outback. We don't fare there much because of our budget, but a nice place to dine. Why not save some bucks! When you order online with the code
OFFER
at checkout it will give you a whooping $5 off!
More deals to come as computer was down, but the deals don't stop for rain, snow, sleet or broken computers! Happy day everyone! ☼