Thanks to I heart Publix we learned about Zaycon foods coming into town. Seeing as we don't have a deep freezer [yet..], and I have been pining over a Foodsaver. Posted before I was on the fence about this, but then low and behold there was a coupon on Foodsavers on FB. The couponing Mama I am it spoke to me very evilly I might add.
After a trip to Walmart, Target, and a bit of online hunting I stopped in BJ's Wholesale because you can use coupons there. I heart this store I kid you not. So in Walmart another model was $80, or $149 for the upright version. After a bit of research on Walmart.com people said they just weren't good. I am not sure if it is the quality of Walmart products or what. Walmart and I have a love hate relationship prior... Anyhoooo back to Bj's Wholesale ♥. The Foodsaver was a G3 model for $134.99. Not only did it have a WHOLE roll [$11], gallon bags [$5], a qt canister[$5?], deli container?[$5], and lovely marinade container [$22] So ontop of saving ten bucks we got over $48 in extras.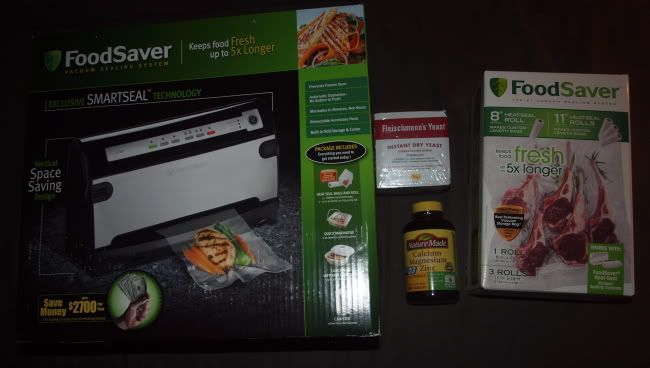 1 Foodsaver G3 134.99-10.00mq=124.99
4 pk Foodsaver rolls 29.99-[2]2.00mq=25.99
2 pk yeast 4.49
1 Natures Made 200ct Calcium, Mag, Zinc vitamins 7.99-5.00mq-2.00bjq= .99!!!!!
So overall savings is over $200. I just can't believe my luck. My wee bit of savings allowed me to splurge on this purchase, but still satisfy my need to save money with coupons.
Now onto the next....how do I use this thing?