Nothing like going into the kitchen looking over fresh ingredients and being inspired to cook. Fresh ingredients just make it better in my opinion! So when DH was in search for a new hobby [don't ask seriously they are a dime a dozen] I did a bit of research to find a spice he was looking for. Again don't ask...even I am fearful lol.
So we get to the store...I want to turn around because it smells absolutely horrid. We plug along being as nonjudgmental as possible. The first aisle was all chinese/japanese cooking ingredients! My eyes were now as big as half dollars, but I have never seen so many ethnic foods in less than a cubic foot! Needless to say I could have been there all day, but school bells ring and I must be there ;)
Will I be back there...you betcha! I was looking for tamarind paste everywhere for pad thai, and I finally found it! Wooohooo! So here is our small venture at Foodtown [they have so many ethnic foods I haven't touched a small amount Indian, Chinese, Japanese, different regions of Latin cultures, Island ethnic foods...really something to see.]RAMBLING! Off to the deals!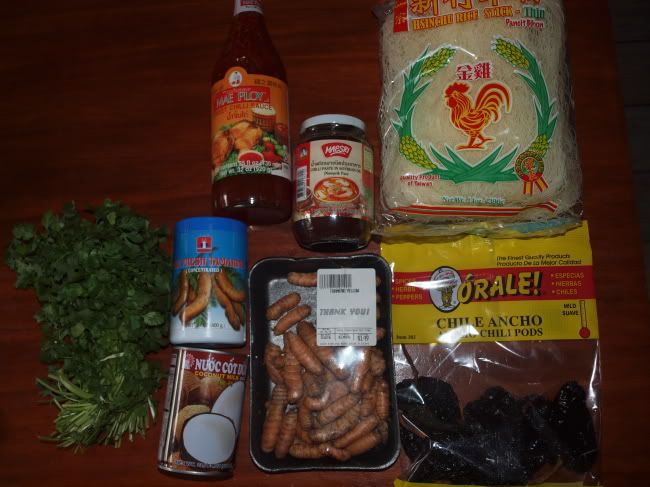 1 bunch Cilantro .33
1 Sweet Chili Sauce 2.99 [for 32oz!!!!] And it is amazing! We spend $4 a bottle for a small bottle at other stores!!!!
1 can/jar tamarind paste PRICELESS I mean 2.69
1 can coconut milk .99
1 jar Chili paste 4.99 [Now at Wholefood's the only place I can find chili paste it is almost $4 for a tiny jar so this is a steal! Taste will tell.]
1 package fresh Tumeric 1.49 [I don't know what I am going to do with this, but Tumeric is old world super spice!!! So good for you!]
1 pk thin rice noodles 1.99 [pad thai nomnomnom]
1 bag dried Anchos....[I got the wrong kind, but they will not go to waste!]2.49
Grand total of this awesome experience....$17.95
Savings.....at least 66% off grocer values.
Most are priceless because I just can't find them, and would have had to buy them online. Do you have shops like this in your town? What spice/food inspires you to cook?