This is a lesson to all check your receipts! I haven't been to Target in some time, but they changed things a bit, and check the coupons before your order. That was fine with me, but the prices on the receipt didn't reflect the sign tags that I saw in the store. It was almost $20 alone in things with different prices or just errors on the cashiers part. [I asked her to check a price for me because a sign said .85, but it rang up 2.79! So she never backed out that part of the order...oopsie!]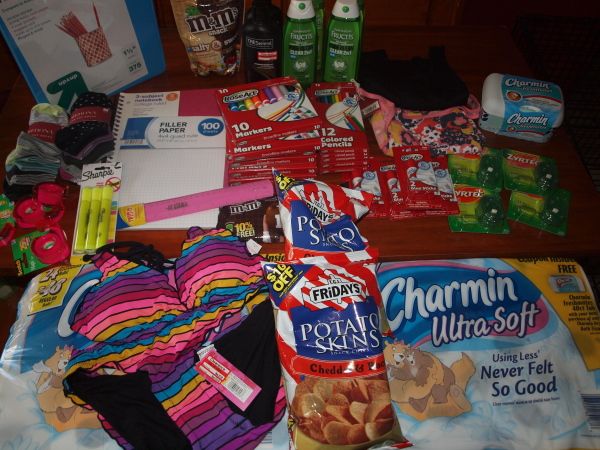 Regardless some great deals to be had!
1 binder 3.44
2 pks [8 pair] socks 5.00=10.00-[2]3.00 off Merona=4.00/2.00e pk
4 rolls tape .49=1.96-[2].50TQ -[4].25MQ= -.04MM
2 piece bathing suit 14.96-[2]3.00tq= 8.96
1 M &M snack mix 2.48-2.48MQ wyb M&M candy=0.00
3 subject notebook 3.00
1 pk highlighters 1.00
1 ruler .97
2 Tresemme 2.11= 4.22-[2]1.00tq=2.22/1.11e
4 Fructis 2.79-[3]1.00TQ-[2]2.79MQ=2.58/.65e WOOOHOOO
6 Markers .49=2.94 -[2]1.00MQ=.94/.31e
6 Color Pencils 2.94 -[2]1.00MQ=.94/.31e
4 Glue stick .25= 1.00
1 M&M 2.66
1 black tank top 5.00-3.00TQ=2.00
1 floral tank top 4.00-3.00TQ=1.00
1 Charmin wipes 2.99- 2.99MQ wyb Charmin= 0.00
4 Zyrtec 5.29=21.16-[4]4.00MQ=5.16/1.29e
2 potato skins 2.00-1.00MQ=1.00/.50e
2 Charmin 24pk 12.99=25.98-[2].50TQ -1.00MQ-5.00TGC=18.98/.40 roll
Just noticed she rang up something else to the tune of 2.79 for more post its I didn't buy. UGH really need to pay more attention.
Total coocoo trip to Target $74.97 [72.18 if I caught the other oopsie...UGH]
Total savings $79.31 52%
Not my greatest trip, but needed toilet paper and this will last a GOOD while. Also found some nice clothing deals, and school supplies. The shampoo made my day really love that brand. Next time more attention on the receipt and or ring up. How did you do this week share below? Happy day!
Jesus loves you!