Happy belated Valentine's Day to you and yours. Any day to celebrate love I am all for it. Sadly I think we might be sick because of the stone crab claws we splurged on. I still have a tummy ache yuck! Well here is a short trip because I needed borax for an experiment much like the previous
hot chocolate experiment
[still perfecting that one.]so onto the deals!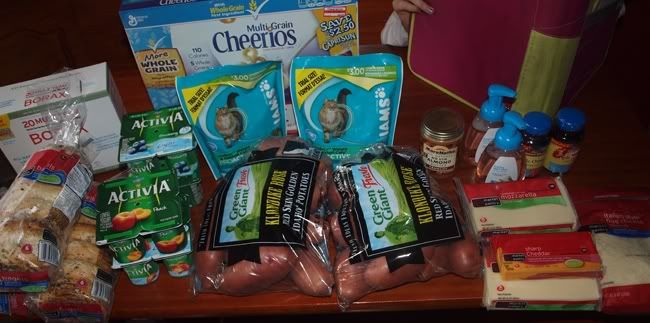 1 Borax [experiment coming soon!] 3.49
3 everything bagels 1.37=4.11
2 multi grain Cherrios 3.84-1.75MQ=2.09/1.05e
4 Activia yogurt 2.00=8.00-[2]2.00TQ-[4]1.00MQ=0.00 FREE
2 Iams cat food trial 3.00=6.00-[2]3.00MQ=0.00 FREE
2-5lb red potatoes 4.99=9.98-bogo mq[up to 4.50]=5.48/2.74e .55lb
1 Marantha Almond Butter 5.66-2.00MQ=3.66 [I was corrected by DD Walmart was cheaper ;) interesting...]
2 Foaming soap [for the pumps lol]1.57=3.14
2 Nature Maid Omega 3 oil vitamins 7.00-1.00TQ-3.00MQ=3.00/1.50e
3 lb mozzarella 4.69=14.07-[3]1.00=11.07/3.69lb
1-8oz Cheddar 2.39
1-8oz shredded Italian cheese 2.39-1.00TQ wyb chunk/shreds combo-1.00MQ=.39
Total
38.82
Savings PRICELESS
;) 46%
Not a stellar trip, but cheese is high these days and my q's were going to expire. I think they were burning a hole in my pocket. Mercy. Cheese was 1/3 of that store trip LOL. From a thingie I found on Money Saving Mom those foam dispensers will be a money saver in the end! Did someone say money saving??? I am all for it! Happy week everyone feel free to link below.