Well the day started out great I must proclaim. It was a relaxing experience! I can't believe how a chain of events could make me feel so postal! Any couponer knows if you are right sometimes you must go to a higher authority. It all started last night.....
After all the dinner was done, kiddos in bed I made my way back to dear ole CVS. Since the sale starts at 12:00 on Thanksgiving I figured I had a head start. Got to CVS again at 11pm. To my shocking surprise the shelves of BLACK FRIDAY items were barren. My luck the gents that were so aloof last night were there for a repeat performance. I asked the cashier what happened to all the Black Friday items that were on sale. Again I should have known..."What are you speaking of ma'am?" So I go over the prior night of events. I CALMLY discuss exactly what both cashier and manager told  me last night. The manager comes back over to say oh that started at 10am. I then of moral body tell him then what was the 12 midnight that he told me the night before. Without another word HE WALKED AWAY!!!!! The gall I seriously bound my hands because I was thinking of boxing his lying ears!
The next events are shocking...even against my moral/judgment. Please be advised this is not my normal behavior and I don't do things this spiteful or malicious. Remember I warned you.
I walked around with my basket to calm my frayed nerves. I loaded the basket full of items, and left the store.
I know, I know I have worked in retail. I know what a pain in the royal keister it is to have people stick items here and there. To make matters worse I headed out to another 24hr CVS. I only then noticed I didn't have my coupons. So I drove back to the prior CVS the basket still in the middle of the aisle right smack dab with my coupons. So I hustled from the confines of my rage back over to the other CVS.
By this time it is 1230pm. I am tired, frustrated, guilt ridden, and my blood pressure must have been well over two hundred. I walk into the other CVS and the cashier greets me with a friendly hello. This leaves me with an over the moon feeling. So I figure I could ask her a question we are friend now. I hold up my Black Friday ad, and ask her when it starts. The friendly gloves flew off as she rose her voice and told me to look at the date on the paper. Once again I feel sick. I abhor confrontation! At this point I just forget it. I need to get home by 2am since DH needs to head out to work. I grab all the things I can find and try to redo all my transactions. [I don't know about you guys, but I am not good with making new transactions. I always mess up my flawless plans! How about you all? Any suggestions?]
Once at the register I figure to give this convo thing another try. I finish one transaction and she looks tired. I can understand that for sure. Other people come up, and I let them go I have 3 transactions total, and there are a million and one ECB. That leaves her with a smile saying that is fair. So after the 3rd transaction we chat a bit more. The woman has worked 9 days straight, it has been busy, and she has a double work load. Before exiting I smile wearily and wish that she gets a break soon, and give my thanks.
No matter how awful a situation is you just never know what is going on with the person behind the counter. Give what you get. Regardless I will be calling CVS tomorrow while it is fresh. Those two men are going down Emmie style.
On my first crapola black friday sale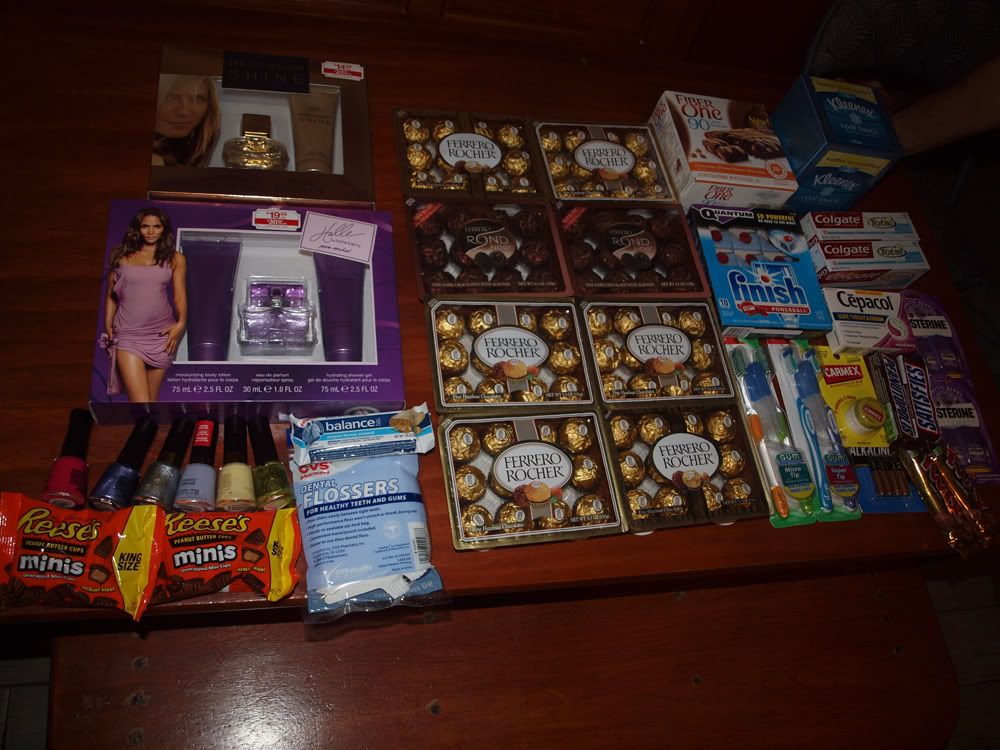 1 Hallie Berry Orchid perfume 19.99
1 Heidi Klume Shine Bogo wyb other set 0.00 -5.00MQ= -5.00
6 Revlon Nail polish 29.94 -24.00ECB= 5.94/.99each
2 king reese's 1.98 -1.98ecb = 0.00
1 balance bar 1.69 -1.69= 0.00
1 CVS flosser 1.99 -1.99= 0.00
8 Ferraro candies bogo 11.96 -[8].50MQ=7.96/1.00box
1 Fiber one brownie 3.99-3.99ecb=0.00 [1].75MQ= -.75MM
1 Finish dishwasher tabs 2.99-2.99ecb= 0.00 -[1]1.00MQ= -1.00MM
2 Gum Toothbrushes 2.99=5.98-5.98ecb= 0.00
1 Kleenex 1.50-1.50ECB= 0.00
2 Colgate toothpaste 2.87= 5.74 -5.74ECB -[2]1.00MQ= -2.00MM
1 Cepracol 4.99-4.99ECB -[1]1.50= -1.50MM
1 Carmex lip balm 1.00-1.00ECB- [1]1.00MQ= -1.00MM
2 Listerine pocket mints 2.99=5.98-5.98ECB- [1].50MQ= -.50MM
1 cvs batteries 3.65-3.65ECB= 0.00
4 mars candies .75=3.00-3.00ECB= 0.00
Total oop $27.77
Value $151
Savings 82%