Could have done better didn't notice couple of the coupons were expired. Extremely frustrating with my budget this week.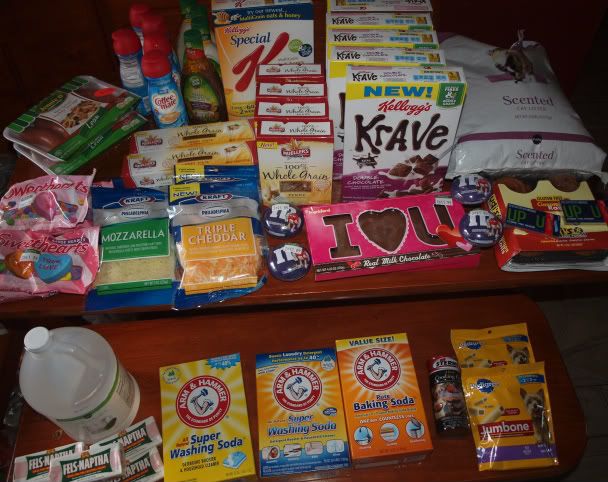 2 Jenny O' Turkey hot sausage 3.49=6.98
4 bags Sweethearts 1.19=2.38
5 Nestle Creamers 2.39=11.95-1.85MQ-1.10MQ=9.00/1.80
4 Wishbone dressings 2.89BOGO=5.78-[2]1.50TQ-[4].65MQ=.18/.05e WOWwwie!
2 Mueller angelhair pasta 1.59 BOGO-1.00MQ=.59/.30e
4 Kraft cheese 3.49 BOGO=6.98-[2]1.00TQ-[2].50MQ=3.98/1.00e
1 Kellogg's Special K 2.20-.70mq=1.50
4 Mueller penne pasta 1.59 BOGO= 3.18-[2]1.00MQ=1.18/.30e
7 Kellogg's Krave 2.00=14.00-[4]1.00TQ-[7].70MQ=5.10/.73e [JUST NOTICE $5/5 COUPON.COM]
4 M&M [2/1.89]=3.78-[2]1.50MQ=.78/.20e
2 I ♥ U chocolates [DH had to have these *sigh*][2/1.99]1.99
1 Publix cat litter 2.69
1 Udi cinnamon bun 5.59
2 Mentos gum 1.49=2.98-[2].55TQ-[2]1.00MQ= -.12MM
1 Publix vinegar 3.15
5 Fels-Naptha 1.19=5.95
2 Washing soda 3.19=6.38
1 Baking soda 2.89-.50MQ=2.39
1 pk sterno....[DH!!!! :S] 4.79
2 Minibones 3.59BOGO -1.00MQ=2.59/1.30e
other q's $5/$30
$15GC wys $100
Total after deduction of GC & coupons $45.42
Savings of $112.62 or 71%
Sorta bummed as I had some coupons that expired! How embarrassing since I cleaned out my satchel last week, but they expired on 2/15 so I was like oh great. The Kraft cheese publix q's for 1.50 expired which was another lesson for me. I meant to buy another couple Minibones, but messed up and bought another Washing soda....which I won't need for some time O:
Came home and found the $5/5 Kellogg's coupons...more sighing. I will just hold onto them with hopes of more sales since my troop eats more cereal than an army!!! How did you do this week?!?!?!