Since this fine tradition began we feel the need to stuff our faces with excessive amounts of turkey, potatoes, and pie. To think to actually not spend over $400 for a one day holiday just is uncanny! Well this is my first year of couponing and I figured why not go for the gusto and save BIG. Well I gave myself a budget, and a mindset not to go hog-wild [which of course I do!!!] Luckily Dad found organic free raged turkeys! So hey the big part of my budget is now gone. BTW THANKS DAD!
Since I am a perfectionist by nature, and a bit eccentric it has to be perfect right! Every year I set myself up for this perfect scenario, and I fall face first into a mound of mashed potatoes. It never fails. I bake the pies fresh, and do most things from scratch. To be honest there is only so much room in my kitchen four burners and two stove racks. This year is my first year doing things a bit differently. I bought two pies [don't faint], and instead of all fresh veggies I found those lovely steam packed veggies at 50% at Publix. Now I feel relaxed and this year I will enjoy it instead of biting off more than I can chew….I think?
Here we go. This is my first two shopping trips for Thanksgiving. Mind you most of the deals I post are both for home use, and Thanksgiving.
6 boxes of Kashi cereal 17.94-[6]2.00MQ=5.94/.99 box!!!!
2 Hershey Bliss [so nomnom] 3.99 BOGO- 1.00mq=2.99/1.50bag
4 Nestle chocolate chips [for holidays!] 6.30/1.57 bag
1 Dixie napkins 2.79
1 pumpkin pie spice 1.59
1 Dixie plate 2.00 - 1.00MQ [wyb napkins] -1.00TQ= 0.00
2 ziplock snack bags 4.38 - 1.00MQ=3.38
4 stove top stuffing 3.58/.90 box
2 swiss miss hot chocolate 2.49-.50MQ-.50TQ=1.49/.75 box
1 better than base amazing stuff worth the extra money 4.49
1 better than base turkey marked down 3.37
2 instant potatoes [um yuck but I couldn't not buy it…] 1.33 -1.00MQ=.33/.17each
2 panko breadcrumbs 4.00-2.00BOGOMQ -.75=1.25/.63each
-5.00 competitor q
Total w/tax 34.48
Savings 52.64 60% savings!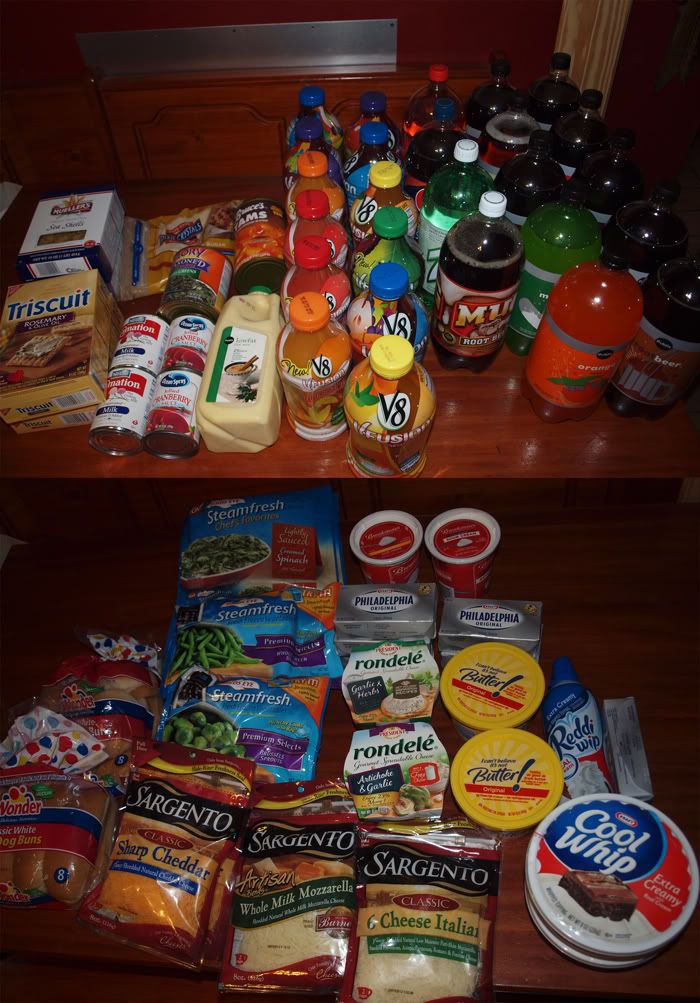 More Thanksgiving run today. Another next week to try and save a bit here and there!
7 assorted Steamfresh spinach 50% off 9.10-[2]1.00MQ wyb3=7.10/1.01each
1 egg nog 3.00
4 sargento shredded cheese 3.99BOGO=7.98-[4].55MQ=5.78/1.45each :D
2 Cranberry sauce 1.98-1.00MQ=.98
6 cream cheese 7.50 - [3].50TQ - [2]1.25MQ= 3.50/.58each
2 Cool whip 1.95bogo
1 reddi whip 2.00
2 I can't believe it's not butter 3.69BOGO -[2]1.00MQ=1.69
[plus a $2mq on bread wyb ICBINB]
2 Rondele spread 4.59 BOGO -[2]1.00MQ=2.59/1.30each
2 sour cream 2.89bogo -1.00MQ=1.89/.95each
2 pasta 1.59
2 triscuits 3.59
1 glory greens 2.09-2.09MQ= 0.00
2 evaporated milk 1.47-.50MQ=.97/.49each
4 v8 smootie 3.99bogo=7.98 -[4]1.00MQ=3.98/1.00each
8 v8 fushion 3.99bogo=15.96 -[4]1.00MQ=11.96/1.50each
1 2lb brown sugar 2.55 -.55PQ- .50MQ=1.50
10 publix soda .89bogo =4.45
2 pepsi soda 1.89bogo
2 7up 2.00-.50TQ=1.50/.75each
2 wonder bread 2.59 bogo -2.00mq wyb icing= .59
$3 publix coupon wys $30
$5 competitor coupon wys $50
 Total w/tax $55.47
Savings of $118.13
68% savings!!!
Total savings from coupons alone $35.84!
Next stop….produce market…
Thanks for all the positive feedback! I am rusty, but getting back into the swing of things!
So far for these two trips [both Thanksgiving and household ]
$89.95
Total savings of 74% [$260.68]
Feel free to comment or ask questions. Have a blessed day!