After this trip I will need a box of beano in this house.
Seriously
. Not sure why the men in our house find that so humorous? Well off to the deals!
The deals this week I noticed I could have saved more money if I bought the more widely found beans, but I really adore garbanzo beans, and cannelli beans so for fifty cents I figured the savings would be more useful for our home.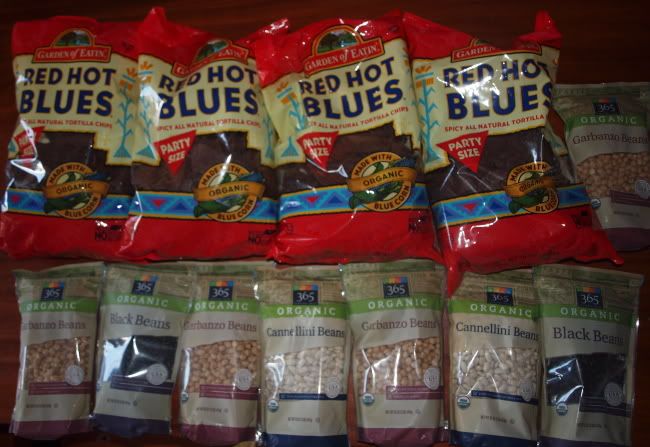 4 Organic Garbanzo dried beans [4lbs] 2.79= 11.16-[4]1.00WF=7.16/1.79e
2 Organic Black Beans 2.29=4.58-[2]1.00WF=2.58/1.29e
2 Organic Cannelli beans 2.99=5.98-[2]1.00WF=3.98/1.99e
4 Garden of Eden Organic blue chips 4.99BOGO=9.98-[4]1.00WF-[2]1.00MQ= 3.98/1.00e
Total OOp: $17.70
Savings: 53% $21.98
On a larger scale there is a bigger price savings compared to canned beans. The prices are insane over canned beans. Even on sale they are .50-.75e. So I stuck them in the freezer[kill bugs if there are any!], then the into the pantry until my mind wraps around some recipes.
Any other Whole Foods shoppers out there? How did you do this week?